TRACKS: 1. Walk -Heliotrope (Paul's Band) 2. Perc. Interlude (Paul G.) 3. Unseen Hand - Heliotrope 4. Perfect Oppression - Heliotrope

Gruv Gear 3/9/16

I am very proud and honored to announce that I am an official artist endorser for Gruv Gear products. Organization and ease of travel/transporatation are extremely important to me, and now I have both thanks to Gruv Gear.
Emporia, VA - All 4 One 2/27/16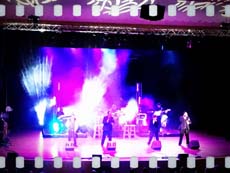 Had an amazing time in Emporia, VA. The crowd was great and the deputy sheriff is our new best friend! :-) Thanks Jo!
"Big Bang Theory" 200th Episode 2/20/16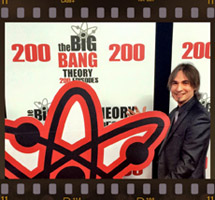 Had the pleasure of performing for the Big Bang Theory's 200th Episode Celebration. I am a big fan of the show and it was fun to see the cast dancing and having a blast!
RHB in San Jose, CA 1/24/16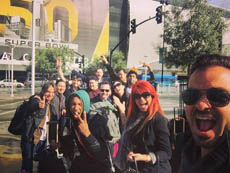 RHB group selfie - Performing in San Jose, CA during Super Bowl week! Crazy but Good Times!
Cartaya's Enclave - "Bass Bash" at NAMM 1/22/16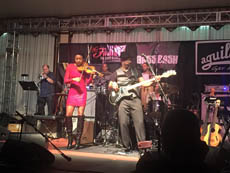 Had the pleasure of performing for the 2016 Bass Bash during Namm. The atmosphere was incredible and made the performance a very memorable one for us.
2016 Flame Challenge 1/18/16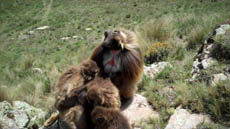 It was a pleasure to be asked to score the "What is Sound" 2016 Flame Challenge video by Graduate students at the University of Michigan's Gelada Monkey Research Project. (International Competition for Scientists)
Aria NYE - Las Vegas, NV 1/1/16
Another fun NYE show in Vegas in the books... Much Love and Happy New Year to all! Here's to a Happier, Healthier, and Groovier 2016!
Latin American Music Awards - Paulina Rubio 10/8/15
It was awesome to get to perform with Paulina Rubio again at the televised Latin American Music Awards. The performance was great and the reunion with Paulina was very memorable and special for me.
"I Can't Breathe" has been released 1/19/15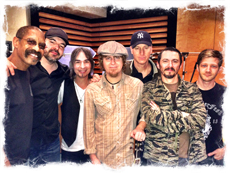 What an honor to have recorded on this song... featuring Lonnie Jordan of WAR, JB Eckl and Eric Dozier of Moanin' Sons, Sebastian Arocha, Pancho Tomaselli, and produced by KC Porter. Yours truly on drums!
NYE @ Aria 12/29114 - 1/1/15 - Las Vegas, NV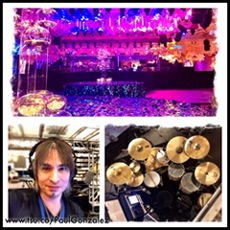 Two full day of production rehearsals and one 4 hour show later... "Happy New Year!" Wishing everyone all the best for 2015! Cheers!
X-Mas Carols at the Children's Hospital 12/17/14 - Los Angeles, CA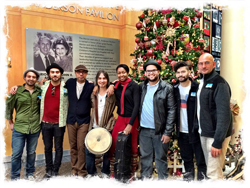 This is one of the best parts of every Holiday Season... getting to perform our annual X-mas Carols jam at the Children's Hospital for the kids there with my loving and generous friends. We also perform for the staff there who work really hard to help the patients in their difficult time and make them feel loved. Seeing the kids smiling and getting out of their rooms to come dance in the hallways, really puts perspective on what is important!
In the Studio with All 4 One 11/05/14 - Valley Village, CA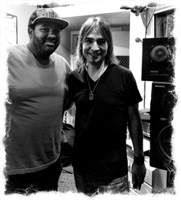 Just finished up in my studio... recording a tune for the next All 4 One album. Always an honor and pleasure to work with the amazing Jamie Jones.
All 4 One show 10/05/14 - Oakland, CA
A Third All 4 One show at Yoshi's tonight. 7:00pm
All 4 One shows 10/04/14 - Oakland, CA
Two All 4 One shows tonight at Yoshi's. 7:30pm and 9:30pm.
All 4 One show 10/03/14 - Mohegun Sun in Connecticut
All 4 One show tonight. 8 PM at the Mohegun Sun.
Artist Day at Aquarian Drumheads 10/01/14 - Anaheim, CA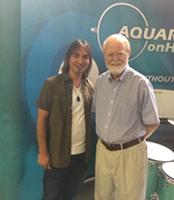 What a pleasure to hang out with Roy Burns! An incredible drummer/person and inspiration. Special thanks to Chris Brady.
Prime Time Emmys Gov's Ball 8/25/14 - Los Angeles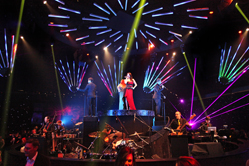 2nd Emmys Event in as many weeks... this time around it was The Prime Time Emmys Gov's Ball! It was such a blast to perform for all of the Emmy winners and nominees!
Emmys Creative Arts Gov's Ball 8/16/14 - Los Angeles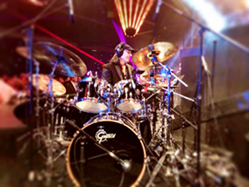 This Years Emmys Creative Arts Gov's Ball is in the books! Great show! ... So happy for all my friends involved in the event: Eli Bruggemann who was nominated for his work on SNL!... also congrats to Randy Ludensky for winning an Emmy for his work on Bob's Burgers!.... and congrats to Pablo Munguia for winning his 6th Emmy!
"Bang Your Drum" Sessionl 8/5/14 - Los Angeles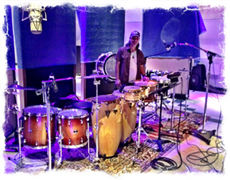 Honored to track some marching drums and bombastic percussion for one of Japan's biggest pop stars -Tomohisa Yamashita. His song "Bang Your Drum" was written by UK's own Mamma's Gun, was produced by Jeff Miyahara, and was engineered by Jon Rezin at East West Studios.
RHB concert with Darius Rucker 8/1/14 - Cincinnati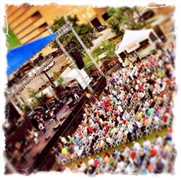 Honored to be on the same bill with Darius Rucker... putting on a concert for Matson Money.
Paramount Studios - Cartaya's Enclave 7/12/14 - Hollywood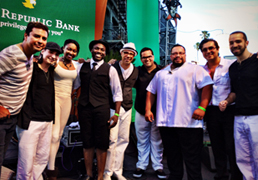 A great band performing for a great cause! - The Concern Foundation! Never a dull moment when performing with Cartaya's Enclave!
The Floor Show 6/9 - 6/13/14 Los Angeles, CA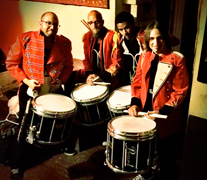 Had an amazing time performing and composing the drumline portion for this incredible muisc and dance production involving over 40 performers and more than a dozen genres.
All 4 One 4/11/14 - St. Louis, MO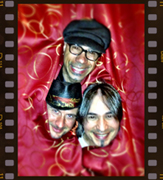 Taking a sneaky peek at the wild and crazy All 4 One audience in St, Louis. We had a great show and the audience was amazing!
RHB BCS Party with Taylor Hicks 1/5 - Pasadena, CA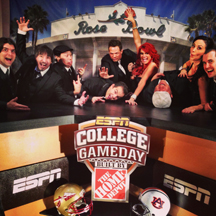 Both Auburn Tigers fans and Florida State Seminoles fans can agree that Taylor Hicks Rocks! We had the honor of performing with him at this years BCS National Championship Party!
RHB 2014 New Years "Attraction" Show - Las Vegas

A 4 hour non-stop show complete with 20+ Dancers, Fire Breathers, People stuffed into large inflatable spheres, LED and neon-lit costumes, Circus Clowns, and then some! Happy New Year to all!
All 4 One Tour 11/16 & 11/17 - Verona,NY & NYC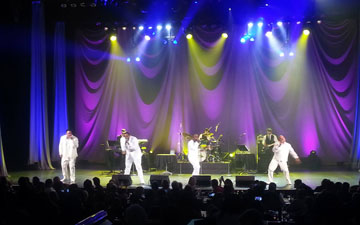 Two amazing All 4 One concerts in NY! Verona, NY and Queensborough College in NYC. Love the peeps in NY!
Emmys Prime Time Gov's Ball 9/22/13 - Los Angeles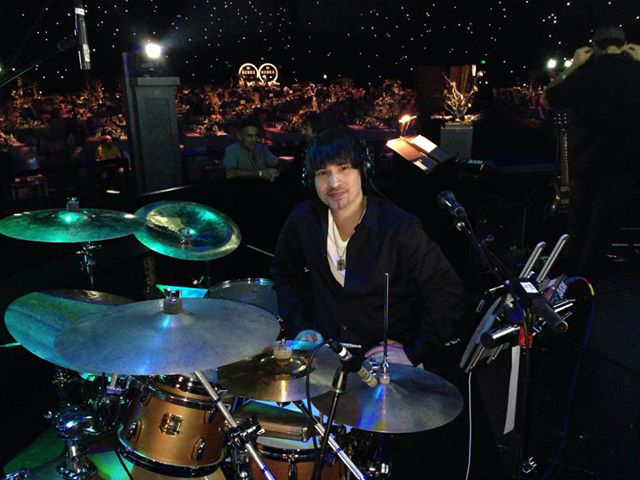 2 weeks in row performing for Emmys events! This week was the Emmys Prime Time Gov's Ball.
Emmys Creative Arts Gov's Ball 9/15/13 - Los Angeles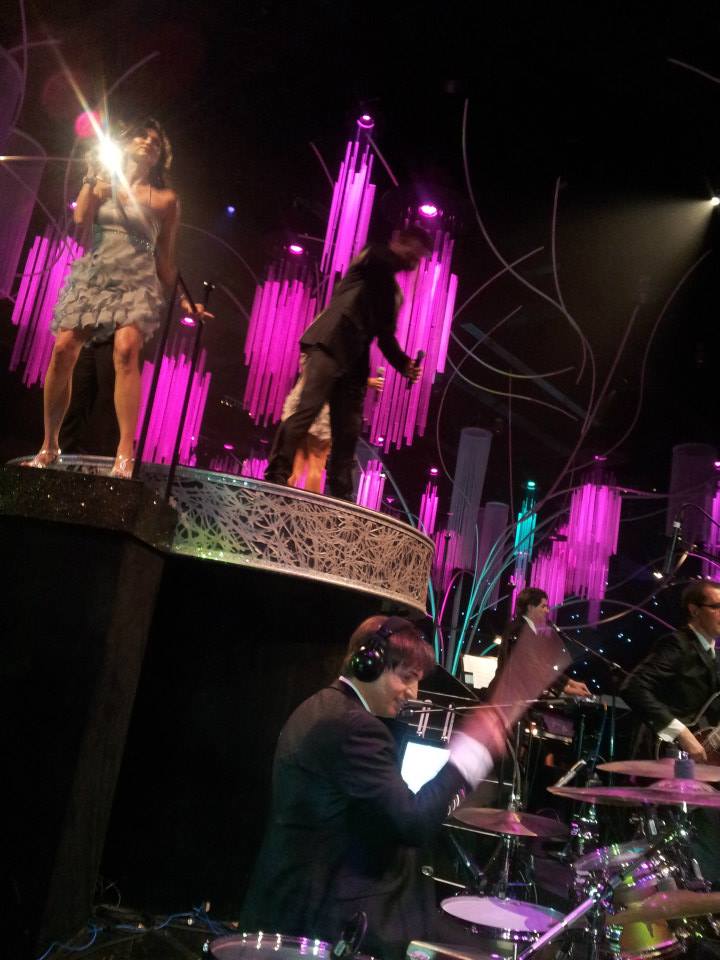 Had a blast performing for the Emmys Creative Arts Gov's Ball!
All 4 One Tour 5/27/13 - Orem, UT

Amazing crowd tonight in Orem, Utah! The highlight of the night was having Moana Feinga from the world famous family group "The Jets" join us on stage!
Dancing with the Stars 5/14/13 - Hollywood, CA
I had the pleasure of performing for the "Dancing with the Stars" 300th Episode Party! RHB rocked the house and the red carpet!
All 4 One Tour 5/11/13 - Columbus, OH
I loved seeing one of tonight's concert attendees propose to his girlfirend and get engaged while we performed "I Swear." Definitely a great moment in the show!
All 4 One Tour 3/9/13 - Nichols, NY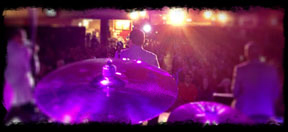 Many "Thank You's" to the great crowds at our 2 shows in Nichols, NY!
All 4 One Tour 2/16/13 - Las Vegas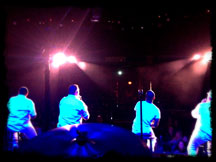 Had a great time in Vegas. The crowds were great and I got to "catch up" with a High School friend I hadn't seen in 27 years!
RHB New Year's Eve Show - Las Vegas 12/31/12
Nothing like a huge 4 hour production with over 20 dancers to ring in the New Year! Happy New Year to all!
Emmys - Governor's Ball - 9/23/12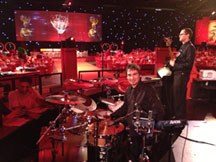 It was an honor to get to play at this year's Emmys Governor's Ball event. The stars were out and the mood was festive!
Paul Performs at the Monitor Latino Music Conference 8/20/12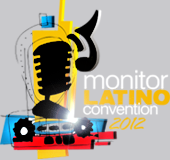 It was a great honor to perform with many great Artist/Songwriters at this years Monitor Latino Conference - Bruno Danzza, Omar Aldama, Erika Ender, and Yoel Henriquez.
Paul on Paulina Rubio's new album - Brava. 11/15/11

Paul recorded drums for producer Sebastian Jacome on a few tunes for Paulina Rubio's newly released "Brava" CD.
Paul Performs at the SESAC Latin Music Awards 6/29/11
it was a great honor to perform with many of the great artists and songwriters at the SESAC Latin Music Awards.
Paul Performs at the Fender Bass Bash 5/18/11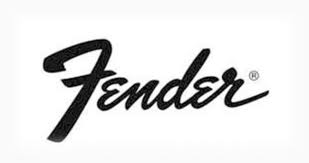 What a great day performing with many of the great bass players at the 2011 Fender Bass Bash!
Paul Performs at the BMI Latin Music Awards 3/10/11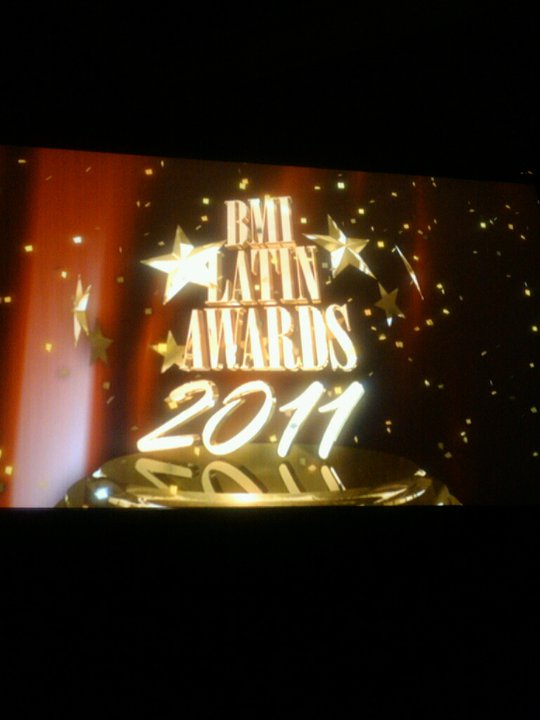 It was a great honor to perform with many of the great artists/songwriters at the BMI Latin Music Awards - David Bisbal, Christian Castro, Chino y Nacho, El y Ella, and Rayito.
Paul on Tour with Shaila Durcal Summer 2010

Look for Paul on tour this summer with one of Spain's biggest and most loved artist - Shaila Durcal.
Paul Performs at the ASCAP Latin Music Awards 3/23/10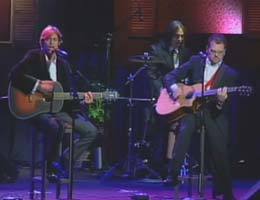 It was a great honor to perform with 2 of the ASCAP Award winners at the 18th annual ASCAP Latin Music Awards - Carlos Baute (Pictured on left) and Wilfran Castillo (Not Pictured).
Paul Performs at the White house 10/13/09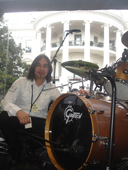 I am very proud to announce that I was part of a band (put together and lead by Sheila E) that performed at the White House on Oct. 13. We backed up many artists that performed for the President. The impressive lineup of artists included Gloria Estefan, Jose Feliciano, Thalia, Los Lobos, Tito El Bambino, Aventura, Sheila E. and Pete E., and Marc Anthony. This show, "Fiesta Latina - In Performance at the White House," was hosted by Eva Longoria, George Lopez, and Jimmy Smits and is scheduled to air Thursday October 15 at 8 PM ET (Times may vary) on PBS.
onseeker music

Paul is excited to announce his involvement (Vice President) in a company called onseeker music. Onseeker has created a music application that connects fans, artists, and venues all to each other. Visit the website (WWW.onseekermusic.com) to see what the music industry is excited about. The onseeker music application will be available at the Apple application store on July 27th.
Featured in SHSU Magazine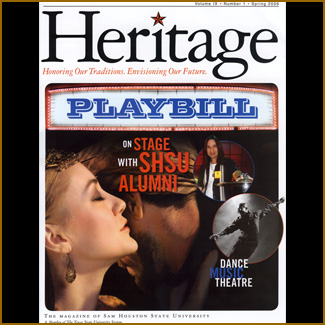 Paul is featured on the cover and main article of the Sam Houston State University's magazine - "Heritage." The articel titled "Making our University Proud," focuses on 7 alumni who have been successful in either the field of theater, dance, or music.
Click here to read that article Paul Alexander Gonzalez - Heritage p.6
UR Drumline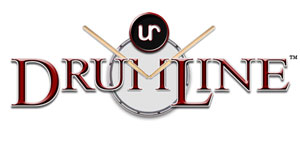 Paul is the president of a new company called UR Drumline. The website (WWW.URDrumline.com) just launched on Feb 2 and is already enjoying great success. URDrumline.com is the virtual community for drummers, percussionists, music educators, percussion instructors, marching bands, drum corps, percussion ensembles, fans, and anyone involved in the drumline genre.
Factory Metal Percussion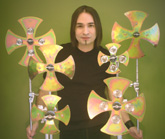 Paul has signed on with Factory Metal Percussion as an endorser. A special "thank you" to Jim Anderson at FMP. Love the new sounds!
3 New Works Published

I am very happy to announce three new works of mine that just got published by the biggest name in percussion music... Row-Loff Productions. The three works are entiled: Bump Thump, Flying Start, and Blast Off! (Click on titles to hear/view)
Indoor Marching Drumline Clinics (Rivera HS-TX)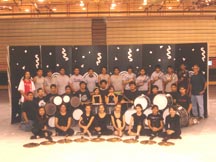 Paul had a return trip toTexas, to work with the Rivera HS Indoor Marching Percussion Ensemble and is pleased to announce another successful set of clinics and rehearsals. This time it was to work on an original show that Paul composed entitled "The Red Planet." The ensemble is all set to compete in the 2008 TECA Winter Drumline circuit. Go RDL!
Drumline/Percussion Clinics (Rivera HS-TX)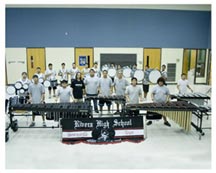 Paul just returned from his trip to Texas, and is very pleased to announce that the Drumline/Percussion clinics he gave at Rivera HS went extremely well. Special "thank you's" to Chris Brady at Aquarian Drumheads for supplying the whole drumline with drumheads, Carol Calato at Regal Tip for providing the drumline with sticks and some extra goodies, and also to Pam Gore at Rhythm Tech for providing the Front Ensemble with Ribbon Crashers, Tambourines, mounts, and accessory holders.
DrumART.Com


Paul has recently performed his first three shows with Lonnie Jordan, and is extremely thankful to Jim Feck and his partner Keri at DrumART.COM. They crafted the Front BD head (featuring artwork from the cover of Lonnie's CD) that Paul is using on Lonnie's Tour. Nobody makes 'em better...so check them out at DrumART.com
Virtual Drumline2

Paul is now endorsing "Virtual Drumline 2" - A marching battery and concert percussion sample library software program by Tapspace. Paul was very honored to have been approached to do this by Jim Casella - percussion composer/arranger and caption coordinator for The Cavaliers drum corps and Co-owner of Tapspace. You can check out his artist blurb at: http://www.tapspace.com/vdl2/VDLartists.html
The Music of Debussy
Paul has been hired to compose and arrange the Drumline and Pit Percussion music for Rivera High School's (Texas) competitive marching show that features music from the impressionist composer Claude Debussy. The show will consist of music from La Mer, Nocturnes, Petite Suite, and Prelude to the Afternoon of a Faun. Paul is scheduled to do drumline/percussion clinics during their upcoming summer band camps.
Paul resigns from Paulina Tour to accept an offer to Tour with Lonnie Jordan - (Apr. 2007).
Paul recently resigned from being Paulina Rubio's Drummer to take a much needed - few months off before getting ready to tour with Lonnie Jordan. It was a tough decision to make, but Paul couldn't turn down an offer to tour with one of his musical heroes...one he grew up listening to. Lonnie's new solo album - WAR Stories is being released by Concord Records in July with performances to follow soon after. Paul was happy to have enjoyed three great years with Paulina, and is looking forward to the same type of experience with Lonnie.
Past News
The Rembrandts - Oct. 2006
Paul has been playing Drums with The Rembrandts. Just finished playing a special show in Maricopa, Arizona.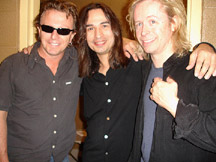 Musico Pro Article - Nov. 2006


Paul has written an article that is featured in the November issue of Musico Pro that deals with 3 concepts for Orchestrating on the Drum Set.
Paulina Rubio - Spain 7/24/06
Paul is currently in rehearsals with Paulina Rubio and getting ready to perform several concerts throughout Spain, including a concert for MTV in Malaga.

(July. 2006) Paul has signed on with Rhythm Tech as an endorser. A special "thank you" to Pam Gore.
"Latino Americano" featured on CSI Miami
(Feb.2006) The song Latino Americano, that Paul co-wrote with Rap Artist Paco and poet Ruben Benitez, was recently featured on CSI Miami - Episode "Silencer,"
Paul composes songs for "Simple Justice" 1/27/ 2006 Paul composed 2 songs and produced 2 others for the documentary - "Simple Justice" - directed by Jeff Werner & Susan Koch.
Paul performs at Latin Grammys 11/03/ 2005 - Paul had the honor of performing with pop star Alejandro Fernandez, and Reggeaton super star - Don Omar. A special "thank you" to Kim and Mark at Gretsch drums for sending a specially requested Drum Set for the Alejandro Fernandez performance.
Paul records with Lonnie Jordan of the band WAR 6/28/ 2005 - Paul recorded drum tracks for Lonnie Jordan's (WAR) new solo album. This new album will be a treat for WAR fans, because it features Lonnie playing some jazz and mixing in hip hop, latin and funk.
Paulina Tour has arrived in Texas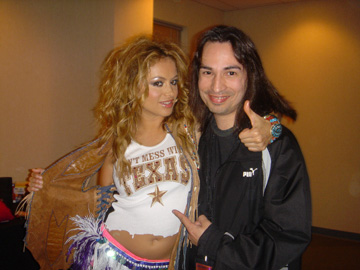 Paulina Rubio World Tour Updates
Check Out Tour Updates at bottom of page.
"Latino Americano" featured on FOX TV Show
The song Latino Americano, that Paul co-wrote with Rap Artist Paco and poet Ruben Benitez, will be featured on the FOX TV Show - Johnny Zero.
April 29 - (Dallas, Texas) Our first show went Great! Dallas was awesome...got to hang with my cousin Hector and that was great too. I got to see Texas Stadium - Home of the Dallas Cowboys and the "Big Tuna." How cool is that ? :-)
April 30 - (Houston, Texas) This show was a special one for me, 'cause I got to see two ex-students of mine (Pat Carey & Christie Schiller) as well as Beth Carey and Brian Carey, who were like second parents to me when I lived in Houston and taught at Deer Park H.S.
May 1 - (San Antonio, Texas) Two shows in a row that I get to see friends that are like family to me. Today I was able to invite the Cuevas Family to the show...originally from Brownsville Texas I might add...It was so great to see them! Thank you so much for coming to the show and for the baby gift for Julian :-)
May 3 - (Corpus Christi, Texas) Finaly had a day off yesterday...that was good...much needed rest. Todays show was great. I want to thank Steve and Terry at LP for sending me that Cajon...I was able to incorporate it in the show today :-)
May 4 - (McAllen, Texas) This show reminded me of the best things in life...like family. I think I had more fun than them at the show. I gave them a "behind the scenes" tour and the highlight of the night for me was seeing them meet with Paulina...oh, and ofcourse seeing the "We love Uncle Paul" sign that my nephews Cristian and Daniel made for me...I love you guys too!
May 5 - (Laredo, Texas) This was another great show. The hospitality in Laredo was top notch. Cudos to the catering crew...the best food we have had by far.
May 10 - (Palm Desert, CA) Finally have internet again...let's see...events that have happened up until today: 3 Plane rides, two hotel rooms, 1big shopping spree, a laundry run, 3 venues (San Diego, Reno, and San Jose) and about 10 hours of sleep! Glorious, egh? I got to see my cousin Carmen Lerma and some of her friends in San Jose...that was great! I hadn't seen her for about 30 years or so. We will be in LA (Home) tomorrow for a much needed day off...I'm stoked about that :-)
May 11 - (Los Angeles, CA) We rolled in at 3:00am today...woke up at 9:00am to go to a session that lasted 'til 5:00pm...then went with my wife to meet with our future pediatrician (whom wouldn't stop talking for what seemed like 10 hours!) Extremely tired must get sleep now ...I am so excited though, 'cause I can see Julian kicking now :-) It's good to be home, even if it's just for two days.
May 12 - (Los Angeles, CA) Our "home show" was great. I was so happy that the whole gang from DCC came to see the show - Julie, Erika, Dave, Eric, "Sunshine," Colleen, and Dennis - luv you guys :-) Chris Brady from Aquarian Drumheads was able to make it to the show as well, eventhought he was a little bit under the weather...Thanx for being a trooper Chris!
May 13 - (Las Vegas, Nevada) Played at the House of Blues...amazingly enough, they were still able to set up the drum riser...needless to say, I got a nice tan from the stage lights :-) jk
May 14 - (Phoenix, Arizona) Great Venue...We had a very fun show today. We had two birthdays among the group/crew and our last song ended with a "Birthday Cake fight." The audience loved it.
May 15 - (Tuscon, Arizona) The show was hot...so was the temperature out in the desert :-0
May 16 - (El Paso, Texas) Day off. Bought some awesome sports jerseys for Julian...got him Cowboys, Rockets, and Longhorns "get ups." Not much to do here, so we actually went bowling - "What!" - and get this, yours truly actually manged to win both games with "whopping" scores of 128 and 147...How bad are we?! :-) We ended the night with what else, but a Whataburger feast.
May 17 - (El Paso, Texas) Show was cool...audience was great, eventhough the show started more than an hour late...out of our control.
May 18 - (Houston, Texas) Day off. We stayed at the "Derrick" in Houston - only the fanciest hotel ever! ...Very nice :-) Most of us hung out at the "Galleria" ...I saw and said "hi" to Cuttino Mobley there (Ex-Rocket Basket ball player, now with the Sacremento Kings)...and by the end of the night, I actually ended up with a free ticket to the midnight showing of the new Star Wars flick...had to give it away though...we bailed Houston at 2:00am.
May 19 - (Pensicola, Florida) Day Off. Stayed at the Holiday Inn...pretty ghetto compared to the "Derrick." Finally checked out the new Star Wars flick...(It was OK. a bit slow, but the ending was pretty cool). Ended up at the go kart speedway with our video guy David...we had a blast!
May 20 - (Orlando, Florida) Another Great show! It was pretty weird waking up in the middle of a huge theme park...
May 21 - (Tampa, Florida) What better way to arrive in Tampa, than by watching the tour favorite "Gold Member." :-) "How about a Schmoke and a Pancake?!" ...that's kinda like the catering we had :-) "Ouch baby, very ouch!" :-)
May 22 - (Atlanta, Georgia) Crazy Wicked Madness! I can't believe how long the lines were of people still trying to get in to the show...and I thought the line on opening night of the new Star Wars flick was long :-) I can't believe how many people they "crammed" into the venue...I was actually very worried about security and about the safety of the audience! The place was so loud and rocking...I am so glad the show went well and that there were no injuries...trust me, after the audience broke through the first set of barricades, I thought something bad might happen...luckily, all went well.
May 23 - (Detroit, Michigan) Day Off...lots of rain...ate some Thai Food - "Kick BoxingChicken" - quite good actually...ate some incredible gelato Italian-style ice cream, and did some laundry - "Boring!" :-)
May 24 - (Detroit, Michigan) Great Show!...quite a bit chilly though..."What's up with that?!"...missing that SoCal weather.
May 25 - (Chicago, Illinois) We played the Aragon tonight...very cool...built in 1926. Show went great. We now head off to Atlantic City.
May 27 - (Atlantic, City) We had a day off yesterday...Last night Paulina treated us all to drinks at the bar, then we all went to a local club to hang for a bit. We had a blast. Show today was cool...smaller stage than we are used to, but we dealt.
May 28 - (Elizabeth, NJ) I got a chance to invite Jim Feck from Drum Art and his wife Melissa to the show. Thank you guys for coming to the show. I had a blast hanging with you guys after the show.
May 29 - (Alexandria, Virginia) All I have to say is...you know how when you see a little baby trying to fit a square peg into a round hole?...yeah, that's kinda how it felt when I saw the crew trying to set up our massive set on a small stage about the size of my living room..."It was all 6's and 7's baby!" :-) Austin Powers.
June 3 - (Miami, Florida) Today we arrived in Miami. Won't stop raining...I am trying to get tickets to the Heat - Pistons game..no luck yet.
June 4 - (Miami, Florida) Never got tickets to the Heats - Pistons game...#@$! Show went great today...one show to go...how time flies.
June 5 - (Santo Domingo, Domincan Republic) Wow! I can't even begin to describe the amount of people that were at the show...the venue was over-packed, there were hundreds of people on roof tops, hundreds of people gathered in the streets...If I didn't know any better, I would say all of the DR was there! What a great crowd to play to for our last show of this tour. Well...something tells me we are coming back here soon...To be continued! :-)
Thanx to everone who made it out to see the show! I had a blast seeing you all...take care, and I will see you on the next one...Love, Peace, and Chicken Grease :-)