Click on a photo for a larger view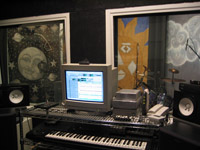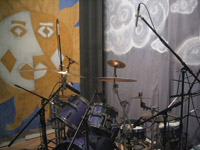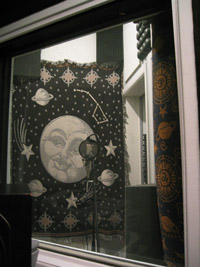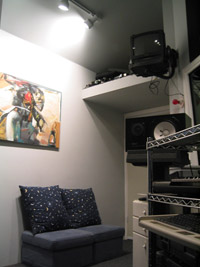 The Grease Factory
The Grease Factory studio was designed in collaboration with "studio design guru" Steven Klein of the Sound Control Room. The studio is fully equipped and consists of a Control Room, Live Tracking Room, Vocal Room, Mini Lounge, and even has a sound proof restroom…believe it or not, it has actually come in handy.
Control Room
The Control Room has views into both the vocal and live tracking room. The room is equipped with ProTools for Hard Disk Recording, many PreAmps (PreSonus, Vintech 473, and the AvalonVt 737sp among them), Yamaha NS-10 monitors, Mackie HR824 monitors, as well as Sony reference monitors, a mixer, Tascam DA-30 Dat Machine, Several Synth modules, Keyboard, MIDI setup,and a video monitor for smpte use and for scoring to film or TV.
Live Tracking Room
The Live Tracking Room has views into both the Vocal Room and Control Room. A separate computer monitor and keyboard are set up for a "self recording" option.
Vocal Room
The Vocal Room has views into both the Live Tracking Room and the Control Room. The room is specifically "tuned" for recording vocals and is isolated from the Live Tracking Room for simultaneous room recording.
Mini Lounge
This area is a great placeto "kick back" or view any recording and tracking. It has views into every room (Control Room, Vocal Room, and Live Tracking Room). This area features a beautiful painting by Argentinean Artist – Rosines Monner Sans.